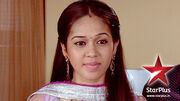 Kinjal Shah is one of the fictional characters in the Indian television series Saath Nibhana Saathiya.
Kinjal is normally a fun and crazy woman and is married to Dhawal, but has no children.
Kinjal is a model, who models alot of sari's and won a sari contest, angrying her mother, Kokila and startling her brother, Ahem.
Kinjal normally gets in arguements with Rashi because Rashi always calls her lazy, angrying Kinjal.
Kinjal is the daughter of Parag and Kokila Modi.